Smart building Contractors Offer wide Range of garage Doors. Our Garage Doors are custom made highly efficient and low price. We can powder coat it to any RAL colour as required by our customers.
We offer following Configurations of Garage Doors :
Adding an automatic garage door to your property will make you the envy of all your neighbours. While they brave the cold, wind and rain to open the doors before or after a hard day at work, you can simply sit behind the wheel, press a single button, and drive in or out without a fuss.
These Doors can be operated easily by a push of button of remote control. these Doors are avilable in different styles which include Canopy style, Roller Shutter Style, up and over style and Sectional Style.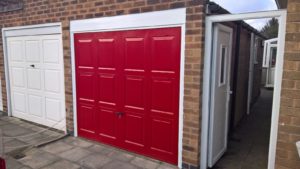 Up and Over Style in RED
Side Hinged Garage Doors :
Side hinged garage doors are designed for busy people who need frequent easy access to their garage. The design of doors means there is no need to open it completely. They typically have one of two configurations. The first opens half and half while the second configuration opens one third and two thirds. They open outwards, avoiding in-garage obstruction problems, such as those caused by low head room, shelves or gas and electric meter placement. The doors also boast a high level of security and can be insulated to keep the inside space warm.
The main benefits of side hinged garage doors are :
Quick and easy access to your garage.
Available in either half and half or one and two thirds'
Open outwards avoiding garage obstructions.
Insulated and secure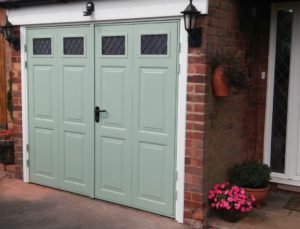 Side Hinged Garage Door in Green
Other Examples of Various Garage Doors are :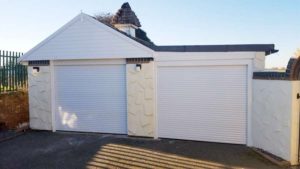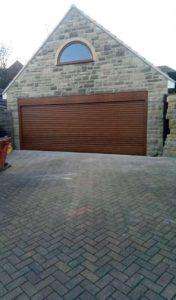 For additional Details or to get a Quote on our products, Please give us a call on 0800 1933 318 or send us an email at sales@smartbcltd.com